Sleep Apnea Syndrome refers to transient cessation of respiration during sleep.
The most common kind of sleep apnea is called
Obstructive Sleep Apnea Syndrome (OSA) which is defined as the cessation of airflow during sleep preventing air from entering the lungs caused by an obstruction.
It is a potentially life-threatening condition that requires immediate medical attention.
The risks of undiagnosed obstructive sleep apnea include heart attacks, strokes, impotence, irregular heartbeat, high blood pressure and heart disease.
There is a sleep test, called ARES Sleep Test that Dr. Salerno uses to help diagnose sleep apnea.
Watermark, the makers of the test explains:
After identification of appropriate candidates for testing through a validated OSA risk questionnaire, home sleep testing equipment is provided to the patient by the physician or mailed directly to the their home.
Our home sleep testing devices have been validated to be as effective as an in-lab sleep studies, yet with the convenience and simplicity of being performed in the comfort of your home at a fraction of the cost!
Upon completion of the study, the information is uploaded to the WM Sleep Portal where the study data is auto-processed, undergoes a technical QA edit and professional interpretation by our network of board certified sleep physician before being returned to the ordering physician for diagnosis, all within 48 hours.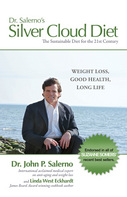 Dr. Salerno's Silver Cloud Diet is a three-step proactive approach to nutrition based on organic unprocessed foods, high protein, natural fat, and low-carbohydrate, low-glycemic choices, fortified with pure organic nutritional supplements targeted to strengthen your immune system, reduce inflammation, and destroy free radicals.  Dr. Salerno advocates the use of bio-identical hormones, as well as a detox program to jump start your life plan.
In the book you will get 75 terrific low carb recipes developed by his co-author, James Beard Award winning cookbook author, Linda West Eckhardt, as well as step-by-step instructions for normalizing your weight, improving your health, and extending your life.
The Silver Cloud Diet is now available in paperback, as an ebook, and as an e-reader for Barnes & Noble Nook and Amazon Kindle.  It is available for purchase at 
www.silverclouddiet.com
.
"It's not just a lifestyle, it's a life." – Dr. John P. Salerno
Dr. Salerno's Featured Products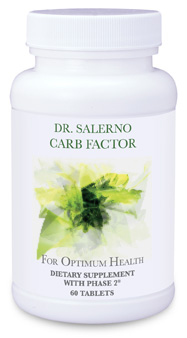 Carb Factor™ contains Phase 2 Starch Neutralizer®, a natural, non-stimulant adjunct for weight management that allows patients to eat complex carbohydrates yet limit their caloric contribution. Phase 2® is an all natural extract from the white kidney bean that helps reduce the enzymatic digestion of dietary starches.  Two capsules of Carb Factor™ at least twice a day, taken before starchy meals or a snack, may assist in weight control when used in conjunction with a high protein diet and exercise program.
Dr. Salerno's Glucose Factor™ is a leading-edge supplement combining well-studied natural ingredients and appropriate dosages.  The ingredients in Glucose Factor, including Biotin, Chromium, Gymnema sylvestre, Lipoic Acid, Vanadium, and Cinnulin are of the  highest quality, and work together to support healthy glucose levels, lower blood sugar, and improve insulin resistance.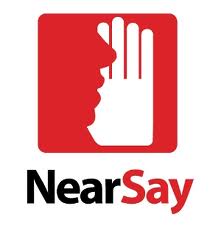 One contributing factor to the success of The Salerno Center is the constant evaluation of health information, which we find extremely important to our patients health needs. Fortunately, we have joined forces with Nearsay, a local area business network in the New York City area to provide you with the latest and greatest health news updates. So, next time your checking your e-mail for exclusive content, click on your source for trusted health information, The Salerno Center!